---
Considering breaking into the lawn care business? Already own one and looking to super charge it? Download our lawn care business book program written from my 25 years of experience

(MORE INFO)
$37
(Less than the price of one tank of gas!)
---
6 MONTH Money-Back Guarantee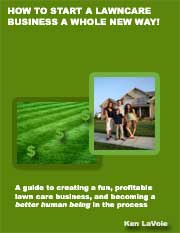 ---
After a six-year marathon of inspecting, buying and rehabbing 51 units of buy-and-hold rental real estate, we've written a book about the process.
---
---
---
---
---
No matter how well we advertise or promote our company, nothing cuts to the chase like our client's testimonials. Here are a few. If you'd like to see more of our jobs or examples, call or email me.
---
Thank you so much for the great service you and your team have provided over the years. It's been a pleasure working with you, and I'll keep singing your praises in the community as I believe it's important to spread the news about awesome local businesses.

J.L. Winslow
---
I thought you did an amazing job. I was so pleased with how everything looked, so much prettier and cleaner looking to the eye. The bush by the lamp post is really beautiful now, and the mulch just topped it all off. It was a joy to have you around for a few days.

P.K. Waterville
---
Just a note to let you know how pleased we are with the shrub work done yesterday. Dan & I walked around this morning noticing how the property is looking so well-cared for....thank you to the man who did the work. We'd love to have him return again.

D.B. Waterville
---
The team that did the work was wonderful! Fantastic work, very professional and pleasant.

K.C. Winslow
---
You guys do exceptional work wouldn't opt for anyone else Ken, so thank you.

R.G. Fairfield
---
Ken,
We just love the work you did. Our home looks great thanks to you. Love your work

MT and LT, Oakland
---
Ken, Thanks for your fantastic work in our yard. It looks great and we are very happy with it. I will get a check in the mail tomorrow!

Best,
KC, Waterville
---
Good morning, Ken,
Extremely happy with your men's work! The two gentlemen were very polite, personable, and worked hard to please! I would definitely have them trim my shrubs again!

Thank you,
Anne
---
Could please pass this one to the very hard worker that did my lawn today. He did a great job lawn looks great. I want to thank you and him for taking care of me. He never stopped to take a break I wanted to go out before he left an thanks him but I looked out an he was gone.

Again thanks so much. T.M. Fairfield
---
Thanks for the info re: spruce. I have nothing but high praise for your men. They worked diligently and were helpful and polite at every turn. Also received your statement. Thank you for your good work !

C.M., Winslow
---
Thank you for taking such great care of our driveway this season. Hope you have a prosperous spring & summer.
C.S. Waterville

---
Hi Ken, Thought you would like to know, the whole neighborhood is talking about my LOVELY flowers. The barrels are so colorful. The bed under the pines also looks great. I want to thank you for all the effort you have put into the project. I am very pleased!

E.M., Waterville
---
Ken,
Our closing is on Aug. 30. We definitely will let the new owners know about your excellent services! I have your card on our bulletin board in te kitchen. We plan to leave that with the cards of our favorite venders :)!

Thanks you for your excellent service and taking such good care of us all these years!

Gail & Jack
---
Thank you so much Ken, he did a great job. What a nice young man. Just let me know how much I owe.

Thanks again, P & H, Waterville
---
Ken
Thank you! I'm very happy with the lawn. The young man who mows is very pleasant and does a GREAT job!

A.G. Waterville
---
Hi Ken
(Your men) came last week and did a great job on the trimming of the shrubs. Thanks ....your guys do an amazing job! !

L.G. Waterville
---
Ken:
God bless you my friend...all is well with us; we are happy customers.

D.M. Waterville
---
Thanks Ken,
As usual, above and beyond customer service and relations.

M.D. Winslow
---
Dear Ken,
Your have been very generous to the (St John Regional Catholic) school... I know that blessings come to the school in many ways. You are the blessing of the day! A heartfelt thanks for adding to the beauty of the school with your time, energy and talents. The front entryway looks terrific! I can say that your work has been noticed by everyone who comes into the school. I cannot tell you how many positive comments we have heard already. Once again, many thanks!

God bless you,
C.M.


---
Ken, I couldn't be happier with the work! You guys did an incredible job and the results are far better then I imagined.

Ryan, Fairfield
---
Ken, I love your work, and I don't know what I would do without you guys helping me "manage my time"!

-- Mary, Waterville
---
Dear Ken: I want you to know that I have been quite pleased with the job your crew has done the last couple of weeks. My lawn looks terrific and it brings me a certian calmness and satisfaction when I see it look this good. Please pass on my sincere appreciation to Dave and company for a job well done.

Warm Regards, Zak
---
Ken
Thank you! I appreciate the quality of work that is done.

R.J. Waterville

---
Ken,
The shrubs look great - Thanks - Everything looks so FABULOUS!
Linanne, Waterville
---
Ken,
As usual, you did an OUTSTANDING job - Thanks!
Gerry and Richard
---
Bless you. You are always there when we need you. ...again thank you for your superb service and personal care. You are indeed a fine man, family man and have an excellent work ethic. We wish you and your family many years of good fortune and happiness here in Central Maine.

Sincerely, Alice
Waterville
---
HI KEN;
JUST A QUICK NOTE TO LET YOU KNOW HOW GOOD THE SHRUBS AND TREE LOOK AFTER THE MEN DID THE TRIMMING. PASS ALONG MY THANKS FOR A GOOD JOB.ALWAYS INTERESTING TO SEE HOW THINGS COME OUT EACH SEASON, THANKS AGAIN,

BOB - Waterville
---
Ken:
Thank you for the nice job you did with my mom's yard on morgan st, she was very happy with the job you did. ...We will see you in the spring.
Mark, Waterville
---
By the way, the lawn looks really nice! It is one of the best looking lawns on that street. THANKS A BUNCH!!
Linda
---
no complaints...only praise! you guys always do a top-notch job!
Jeff and Mary, Waterville
---
My lovely wife, the boss, says we'll pass on (leaf cleanup), but we have not stopped talking about what a fantasitc job you guys did this season! we both look forward to seeing you next spring...
Jeff
Waterville
---
HI - JUST A NOTE TO LET YOU KNOW HOW GREAT EVERYTHING LOOKS. REALLY APPRECIATE THE EFFORT AGAIN THIS YEAR. MAKES US LOOK PRETTY NICE GOING BY ON MAIN ST.
THANKS AGAIN - BOB
---
Happy Thanksgiving (belated) to you and yours, too, Ken, and thank you and your fine crew for taking such good care of my yard. The fall cleanup results are great!!
Best,
Elizabeth
---
Thanks, Ken, for the update. You take such good care of us!! Everything looks great. See you on Halloween!!
Jeannette

---
Thank You! We think the yard looks GREAT and we appreciate all of Troy's hard work.
Zak and Kim, Waterville Ken
Thanks so much! You and your crew did a GREAT job here this AWFUL Winter!
Pat
---
Just wanted to let you know that our yard is really looking good! The men were here a few days ago and did a great job. Thanks! Hope your summer is going well!

Gail & Jack Walsh
Waterville
---
It has been my pleasure to work with you over the years. I continue to be impressed with the speed and quality of your work. You always strive to maintain the Benton School during our high traffic times in the spring and fall. I appreciate your attention to our needs. On a personal note I appreciate the work done at our home. I hope that we can continue with our very effective professional relationship. Enjoy your summer. It will be plowing time soon.

Sue G.
Fairfield
---
Wonderful lawn care and very responsive to my needs

Jo
Waterville, Me.
---
Ken, the yard looks beautiful. Thank you for all your hard work and I will put the check in the mail today.
Elizabeth L.
Waterville
---
You were referred to me by Jim Nicholson who said; "Ken does a great job though he's more expensive than a lot of others". That's when I first called you. I have always been very happy with everything you've done and I appreciate the personal touch - I feel like you are a friend. I have no complaints - ever. I hope you don't mind that I do use my next door neighbor's grass cutter - and that I do because it's very cheap and he does us simultaneously - and that frees me up to use you for other things. so let me just say - thank you!!
Sue L.
Waterville
---
Thank you so much for all the wonderful work you're doing on the yard! It's SUCH an improvement - I'm delighted.
E.L.
Waterville, Me.
---
I just want to complement you on how beautiful (Fairfield Primary) has looked all summer. You certainly have a wonderful touch.

Claudette Massey
Fairfield Primary School
---
You've done a great job again this year. Have had lots of compliments and I think the church is happy with the planter

Theresa Macklin
Gardiner Savings Bank
---
LaVoie's Landscaping has provided donated lawn care for our Campus for the past 3 years. Their work is always excellent. As the Director of a non-profit agency it has amazed me how philanthropic Ken LaVoie is. Not only has he provided impeccable care of our property, but he also managed to participate on our recent Capital Campaign Committee. As far as I'm concerned this business is a real asset to our community.

Sharon Abrams
Executive Director
The Maine Children's Home for Little Wanderers
---
The district considers LaVoie's Landscape Mgmt. Inc. as one of our top companies to work with.

Charles Richardson
Superintendant of schools
SAD #49, Benton.
---
We truly appreciate the efforts of La Voie's Landscape! They are responsive to our needs and we get tons of positive feedback on how nice our office looks each Spring and Summer when they have planted our flowers and maintained our shrub beds. Keep up the good work, La Voie's!

Sincerely,

Gregg Perkins, President
Affiliated Realty, Waterville.
---
We recently engaged LaVoie's Landscape Mgmt. to trim & prune ornamental trees, bushes, shrubs and hedges. Ken LaVoie, founder and operational manager, was the professional who provided the service at our home. He listened very carefully to what we wanted, provided expert opinions and then developed a plan. He demonstrated extensive knowledge in landscape management, acquired through educational training as well as "on-the-job" experience. Mr. LaVoie was very courteous, polite and completed his work in a timely fashion. I would definitely recommend him to anyone who takes pride in their outdoor home environment.

Sincerely,

Richard Michaud
Winslow, Me.
---
Contacting your company was the best thing I've ever done. What a pleasure it is to not worry about my lawn.

Mary-Anne Beal
Waterville
---
Dear Ken, I am writing to you from the "Sunny South" to let you know that I have been very happy with your care of my property. It is great to be down here and to know that when I return my landscaping will be ready and in good shape.

You have been doing my work for 3 years, and I have been perfectly satisfied with the results. You have done everything that I've wanted - and even more! When I first hired you, my lawn was more than a nightmare! It was more like a barren desert. Now I am proud to look out of my windows and see all that "green".

Thanks for your care and good service, and I wish you the best of luck.

-A happy client,
Howard Miller
---
Ken,
You have always done a good job and appreciate your faith and honesty and compassion for helping Senior Citizens. It sure means a lot.

-Mrs. Eldon Fish
---
Thanks for your wonderful service!

Evelyn Stedman
---
Very accommodating to changes and additions. Good job!

-Gardiner Savings, FSB
Waterville, Maine
---
Your work was great! My neighbors do their own yard, but say mine looks great. I plan on having you do some more soon.

Sue La Plante
Waterville
---
I appreciate the work you and your team have done in my yard throughout the years.

Rosanna
---
"No complaints whatever. My thanks to you and your workers"

-Mrs. Basford"
---
It must be 10 years Ken, so I guess I'll keep you! Earla and I comment often how nice our lawns look, especially because you do them the same day. Thank you and your helpers, Ken!

-Juanita Dearborne
---
Thank you to all my clients, who put food on our tables and push us to new heights. Without you, there would be no La Voie's Landscape Mgmt., Inc. Our commitment it to continue upward, delivering such excellence that you wouldn't dream of being without our service.

Ken La Voie III
founder and president


---